3 x Trigger (issues #2, #3, #4)
3 x Trigger (issues #2, #3, #4)
#02: 24 x 32 cm / 96 pages
#03: 24 x 32 cm / 96 pages
#04: 24 x 32 cm / 80 pages
Package with 3 latest issues of Trigger:
/ Trigger # 02 — Uncertainty
/ Trigger # 03 — Care
/ Trigger # 04 — Together
Trigger is an online and print publication published by FOMU and Fw:Books. The magazine takes photography as a starting point for criticism, long reads, contemporary and historical research and artist contributions. Every year, in November, Trigger publishes a themed issue in collaboration with a guest editor.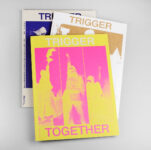 Trigger4_pack