Trigger # 01 — Impact
Trigger # 01 — Impact
24 x 32 cm / 96 pages /colour / softcover / isbn 978-94-90119-82-9 / Best of 2019 (Rob Hornstra, Photobookstore) / Sold out
Contributions by: Donald Weber / Steven Humblet / Ariella Azoulay / Simone Kalkman / Lewis Bush / Wilco Versteeg / Oliver Vodeb / Chris Becher and Mads Holm / Shahidul Alam / Alberto García del Castillo / Andrea Stultiens / Andrew Jackson and Savannah Dodd / Sara Dominici / M. Neelika Jayawardane / Peter Bouckaert / Rutger van der Hoeven / Florian Göttke / Taco Hidde Bakker / Walter Costa / Stefan Vanthuyne

















The first issue on 'impact and photography' is made in close collaboration with The Royal Academy of Fine Arts (KABK), The Hague, The Netherlands, and guest editor Donald Weber, teacher and researcher at KABK. The question that guides us through this TRIGGER issue on 'Impact':
"Can we still assume photography's (age-old) impact in an image-saturated world, where fake news, the questioning of representative democracy and the return of colonial pasts are engaging different political cultures, publics, action and pression groups?"
Through 20 contributions TRIGGER aims to cast impact as a re-enactment or assertion of radical intimacy, initiates a different gaze on the world and shows that impact can exist within an ecology or geography of photography too. Impact is social, participative, conflictual.
About TRIGGER
— TRIGGER is a new publication platform concerning photography, which originates from and is supported by FOMU, the museum of photography in Antwerp, Belgium.
— TRIGGER is published entirely in English, both as an online platform and an annual thematical magazine in collaboration with Fw:Books (Amsterdam).
— TRIGGER publishes non-academic essays, interviews, opinions, new narratives, and invites writers, photographers, thinkers both to reflect on new perspectives in photography (exhibition) and to revisit practices and images from the past from new angles/approaches
— TRIGGER aims to make connections and strives to critically reflect on photography in and outside institutional contexts. It wants to open up debate by disclosing photography collections and archives and making artistic research available to different publics.
— TRIGGER triggers debate and critique through photography in relation to the arts, sciences, religions and different visual cultures.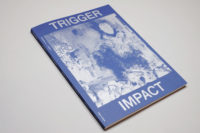 Trigger01_00_site