Fw:#7 Pages — The Cuenca Edition
Fw:#7 Pages — The Cuenca Edition
2009 / 16 x 23 cm / 16 pages / texts in English and Spanish / Edit and design by Hans Gremmen / Publication made on the occasion of PhotoEspaña 2009. Including a transcript of a conversation between Fw: and Frits Gierstberg of the Nederlands Fotomuseum about the selection of Pages in Cuenca.
'Pages' is a constantly changing selection of photobooks by contemporary Dutch photographers, curated by Fw: in co-operation with Claudia Küssel. The selection is distinctive because it is made from the maker's perspective and not from an art historical viewpoint. The selection not only provides an overview of current interests in the field of photobooks in the Netherlands but also aims to be a portrait of an era, showing how a particular generation of photographers, which includes the members of Fw:, use the medium of the book. In this respect, experimental forms are explicitly sought. Fw: discusses the selection for the exhibition 'Pages', which can be seen during PHotoEspaña, with Frits Gierstberg.
With work from Raymond Taudin Chabot / Jaap Scheeren / Mieke Woestenburg / Bob van der Vlist / Andrea Stultiens / Paulien Oltheten / WassinkLundgren / Rob van Hoesel / Rob Philip / Annelies Goedhart / Vanessa van Dam + Martine Stig / Ringel Goslinga / Petra Stavast / Niels Stomps / Melanie Bonajo + Kinga Kielczynska / Antje Peters / Erik van der Weijde / Linda Maria Birbeck / Rob Hornstra / Eva Marie Rodbro / Koen Hauser / Charlotte Dumas / Geraldine Jeanjean / Anouk Kruithof / Monique Scuric / Ilse Frech / Nickel van Duijvenboden / Thomas Manneke / Magdalena Pilko / Cuny Jansen / Vivianne Sassen / Wytske van Keulen. Special thanks to: Nederlands Fotomuseum (Frits Gierstberg and Claudia Kussel), PhotoEspaña, Fundación Antonio Saura, Pilar Blanco, Ambassy of the Kingdom of the Netherlands, Madrid (Christel Coolen), the Mondrian Foundation.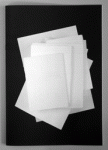 cuencapages02