From Where I Stand + Trigger #3 Care
From Where I Stand + Trigger #3 Care
From Where I Stand 24 x 32 cm / 108 pages /colour / softcover / isbn 978-90-831658-9-9 / Edited by Iris Sikking and published by Biennale für aktuelle Fotografie / Design by Leonie Rapp
Trigger #3 24 x 32 cm / 96 pages /colour / softcover / isbn 978-90-831658-4-4
Package of the Catalogue of the Biennale für aktuelle Fotografie 2022 and Trigger #3 Care.
'From Where I Stand' explores how a more sustainable, inclusive and empowered future might be achieved from various perspectives. The 21st century way of living is severely influenced by the complex interdependency of people, the environment and technological processes. Technology allows us to enhance our bodies, to have immediate access to information and only communicate with like-minded people, and to use the earth's resources for our own needs. Despite these advantages, these developments also lead to a many of disadvantages: Algorithms and filter bubbles influence our beliefs and actions. Not all people have equal access to resources; nature suffers from overexploitation. With work by Aàdesokan, Mónica Alcázar-Duarte, Heba Y. Amin, Archive of Public Protests, Lisa Barnard, Poulomi Basu, Alexandra Baumgartner, Eline Benjaminsen, Silvy Crespo, Alexandra Davenport, Anna Ehrenstein, Matthieu Gafsou, Michał Iwanowski, Antoinette de Jong & Robert Knoth, Anouk Kruithof, Thomas Kuijpers, Yufan Lu, Giya Makondo-Wills, Douglas Mandry, Mashid Mohadjerin, Awoiska van der Molen, Nepal Picture Library, Kelebogile Ntladi, Paulien Oltheten, Gloria Oyarzabal, Rune Peitersen, Yan Wang Preston, Felipe Romero Beltrán, Rohit Saha, Sara, Peter & Tobias, Małgorzata Stankiewicz, Katja Stuke & Oliver Sieber, Maria Sturm, Misha Vallejo Prut, Salvatore Vitale
Trigger#3: Care is everywhere and at the same time society faces a 'care problem'. How do artists and photographers create more caring relationships between humans, technology, and nature, given the challenges? An editorial commitment to care by an international Belgian-Dutch-German team leads to a variety of artistic practices and underrepresented stories. Theoretical text contributions, visual contributions, and experimental, hybrid formats stand side by side. Trigger #3: Care eventually gathers many forms of care through photography and visual art practices. Contributions by: Aurélie Bayad, Bindi Vora, Silvy Crespo, Pablo Lerma, Liz Orton & Sharon Young, Mashid Mohadjerin, Grace Ndiritu, WAI Architecture Think Tank, Lisa Barnard, Mónica Alcázar-Duarte, Mischa Vallejo, Gerard Ortín Castellví, Noémi Goudal, Mónica Alcázar-Duarte, Frida Orupabo, Rune Peitersen, The Archive of Public Protests.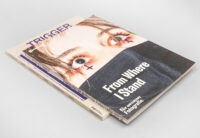 IRIS_01NEW