Summer 2018
'Citizen of two Worlds' by Sam and Henk Otte
In this book the brothers Henk and Samuel Otte follow in the footsteps of their great-grandfather Rev. Gerrit Hendrik Kersten, an influential Dutch Protestant minister who in 1939 went to the United States to give emigrant members of his church encouragement and support. The result is a visual road trip to the towns, families, churches and farms that Kersten visited, with accompanying archive pictures and diary entries.
'27 Drafts' by Simone Engelen
Simone used the series of letters that she has been trying to write, following a painful incident from the past, to look at how elusive the search for closure and meaning can be. For this project, she returned to a remote mountain village, revisiting the guilty landscapes, to shape current reality.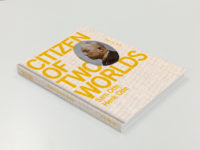 Sam and Henk Otte
Simone Engelen