#showingandblaming
08.10.2015
18:01 Willem Popelier
My interest would be mainly in the reception of the selfie. Since I did a lot of my research for my selfie book on how people think it should be done, I stumbled upon many examples of how the practice of selfie-taking is regarded by many. There seems to be a distinct moral issue surrounding selfies: those who make selfies are often regarded as stupid. If I mentioned that I was working on a project on selfies, I often had to defend my choice of topic.

Willem Popelier, The Do-It-Yourselfie Guide, 2014.
18:04 Willem Popelier
A good example is the video of the girls making selfies during a Major League Baseball game. They're criticised by the sports narrators with statements such as 'This is parenting in 2015'. We tend to dismiss selfies as stupid or irrelevant. At the same time we can't stop giving more and more attention to people who make a lot of selfies. This fascinates me. #showingandblaming
19:47 Karin Bareman @willem
It's interesting that the making of selfies gets documented to such an extent and that people despite the disparaging comments still look at it and engage with it.
21:12 Raymond Frenken: @willem
I'm also interested in the reception of the selfie. The Alpha Chi Omega sorority girls, who were criticised by the sports commentators, immediately responded not by defending their behaviour, but by re-framing themselves as philanthropists (they had committed themselves to 'A New Leaf', a non-profit supporting victims of domestic violence). Take note: the girls had supported this good cause for a long time, so their selfie-taking wasn't motivated by the media frenzy; nevertheless, the underlying message is: we are not #selfish, we are generous.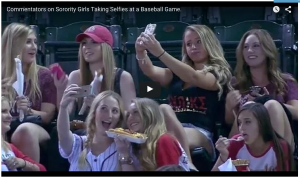 Screenshot of FB post by the sorority about the good cause
.
9.10.2015
07:20 Daria Tuminas: #showingandblaming #dangerousbusiness @willem, @karinb
These subjects come together. Selfies are dangerous. It could destroy your reputation (Obama, Thorning-Schmidt and Cameron taking images at Mandela's memorial service), or you can even get death threats (Breanna Mitchell who posted a selfie from Auschwitz).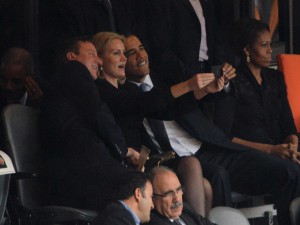 Obama group selfie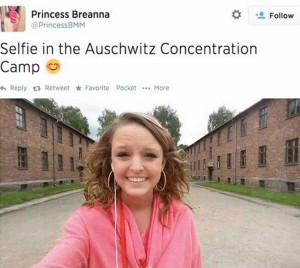 Auschwitz selfie
10:10 Raymond Frenken: 
During her visit to a refugee camp, Merkel made selfies with the residents and was criticised for it. She reacted on a talkshow: "With selfies there is less distance than with a regular photo, that's an inherent part of the selfie. Do you really think that 100,000 people will leave their homeland because one such selfie exists?"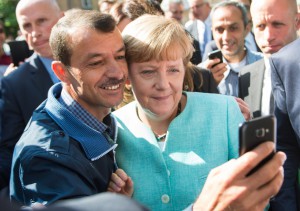 Merkel and refugee photo
10:18 Raymond Frenken: @daria
It's the act / ritual / performance of taking a selfie that evokes moral judgments, not so much the resulting selfie itself. Or even: that which arouses contempt, is the picture of one taking selfies at a place or event judged inappropriate (neither the picture above, showing Merkel and a refugee, is a proper selfie, nor is the picture of Obama, Thorning-Schmidt and Cameron).
10:29 Willem Popelier: @raymond
A great example. We often blame the selfie act, without seeing the actual image that was made. It's very easy to reject the action of taking a selfie, if you as a viewer do not see the resulting image, but feel that you're left out of the 'conversation' of the selfie.
10:29 Willem Popelier: #showingandblaming
A small case study: the girls at the baseball game made selfies because there was a T-Mobile selfie game going on during the game. In other words, the people in the stadium were challenged to making selfies. So what we see are girls acting as desired, but blamed for that nonetheless.
11:07 Daria Tuminas: @raymond #showingandblaming
Exactly! In some cases the making of selfies is inappropriate. And the ones who judge can only see the selfie or just the act of taking one – so the judgment is based on how appropriate the act is in given surroundings. But then we need some documentation of the selfie-making. How should we name this strange phenomenon? Some kind of witch-hunting for selfie-makers.
11:11 Daria Tuminas: #showingandblaming
The strange thing is that we can also be criticised for a smile. It's not bad that Obama and the team made a selfie, but it's bad that they smiled. Imagine them crying in a selfie. What would be the reaction to that? Is a sad-selfie even possible? Maybe they just put up a selfie smiley face for genre requirement?
11:20 Willem Popelier:
A smile for a selfie is a primal reaction. I don't think it's a genre requirement but rather a general reaction to the camera. Get a camera in front of people and the first reaction is to smile: 'Cheeeeese!'
11:31 Raymond Frenken:
This smile shows relief: 'Syrian refugee Lailav Khalil, 15, shows a selfie on her mobile phone, after arriving on a dinghy from the Turkish coast to the northeastern Greek island of Lesbos. Oct. 3, 2015.'
See How Smartphones Have Become a Lifeline for Refugees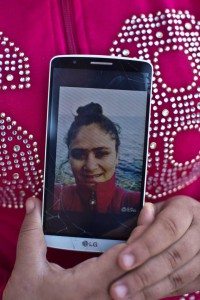 11:41 Willem Popelier:
From 2009 to 2011, I worked on my project Showroom Girls. Back then the term selfie wasn't in use yet. When I now explain the project without mentioning that the girls made 'selfies' (they made photos on a showroom computer), the reaction is less strong than when I state they made SELFIES.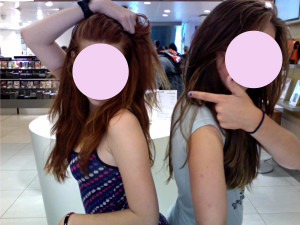 Willem Popelier, from the series Showroom Girls, 2011.
11:41 Willem Popelier:
It's interesting to read online reactions to my work. They're very predictable and almost always in the #showingandblaming direction. For instance in the case of Showroom Girls, it's discussed whether I (as an artist) am morally allowed to show the images (selfies) by two girls to the general public. See the articles on Gawker and especially the reactions underneath, where I'm being called a creep, a stalker, and even a pedophile.
http://gawker.com/5860247/this-might-be-the-creepiest-art-project-ever
The focus is on how wrong I am, instead of wondering whether maybe the girls are morally wrong or stupid to take so many images of themselves on a public computer. This was before there was a general notion of 'selfie' and the profusion of online self-representation.
11:41 Willem Popelier:
The reactions on the article published by The Daily Mail on my selfie book offer something quite different, namely a focus on how wrong it is to make so many selfies, that the act of taking selfies is wrong. This article was published last summer, when everybody was well aware of the concept of the selfie. So the focus here is not on me, but on the act of making selfies. (On a side note: the article was published in the WOMEN section.)
http://www.dailymail.co.uk/femail/article-3102863/Artist-analyses-thousands-pictures-create-66-golden-rules-snapping-perfect-selfie.html
12:01 Suzan Geldhoff:
Very interesting that you experienced a shift in tone and focus in the writings about your work, Willem! Usually these things go so gradually you don't really notice, but you had an indicator (your own work).
12:10 Suzan Geldhoff:
It made me think of Noah Kalina and his selfie series that he edited in a video and published on YouTube / Vimeo in 2006 (he was so revolutionary back then, using new media / technologies like that and started a trend). And I also thought of Justin Bieber who uploaded himself performing in his bedroom to YouTube in 2007, which led him to be discovered. These are early examples of the (positive) effect of putting yourself out there via selfies and social media. So not #showingandblaming but the first examples of #showingandbecomingfamousinapositiveway
Screenshot video Noah Kalina, Noah takes a photo of himself every day for 12.5 years, 2000-2012, YouTube.
12:19 Willem Popelier:
Bieber still applies the same strategies of embracing happiness and promoting positivity with selfies. See for instance his music video for the song 'Beauty and a Beat': it's filmed as if it were a selfie-shot, but if you see the whole video, at one point (1:47) he lets go of the camera which then suddenly 'floats' after which we're back in the standard music video atmosphere for a while.
Screenshot video Justin Bieber, Beauty and a Beat ft. Nicki Minaj, 2012, YouTube.
12:26 Suzan Geldhoff:
Bieber still applies the same strategies of embracing happiness and promoting positivity with selfies. See for instance his music video for the song 'Beauty and a Beat': it's filmed as if it were a selfie-shot, but if you see the whole video, at one point (1:47) he lets go of the camera which then suddenly 'floats' after which we're back in the standard music video atmosphere for a while.
10.10.2015
13:02 Daria Tuminas:
Bieber still applies the same strategies of embracing happiness and promoting positivity with selfies. See for instance his music video for the song 'Beauty and a Beat': it's filmed as if it were a selfie-shot, but if you see the whole video, at one point (1:47) he lets go of the camera which then suddenly 'floats' after which we're back in the standard music video atmosphere for a while.
12.10.2015
14:22 Karin Bareman: @all
Regarding the inappropriate times and places of taking selfies, are you guys familiar with 'Purity and Danger' (1966) by Mary Douglas? The main point she makes is: 'Dirt is matter out of place.' It relates to religion, all that's considered sacred and profane, but where dirt is matter out of place, is where the exciting stuff happens, where a culture or religion touches upon pain points, taboos, tensions etc.
14:40 Karin Bareman: @willem
I find it interesting that both you yourself and your project gets judged so strongly. But then, again, someone like Richard Prince, Jock Sturges and Sally Mann get judged quite harshly too for showing young girls in a particular way. Has it got to do with the genre of the selfie or with the (self) portrayal of young girls? Are we touching upon a particular cultural pain point here? Is there a perceived danger to the purity of the girls? #purityanddanger
14:56 Suzan Geldhoff: @karinb
The weirdest thing about the judgment of 'Showroom Girls' is that the privacy aspect of the girls is very well guarded by Willem the artist. I think the criticism has something to do with the sensibility in the USA regarding young girls and pedophilia, sex offenders etc. Which is absurd in the context of Willem as an artist. You could even perceive Showroom Girls as a warning for young girls, to be on guard in terms of putting their personal information (and face) out there. Which also leads me to believe that the criticising party didn't look very careful at the project and just decided to jump on the perv bandwagon (which gives them probably more traffic on their website, since it's a hot topic). Creating drama and controversy where there is none.
17:49 Daria Tuminas: @karinb
Another great example of photographers being judged for making / presenting images of young girls is Bill Henson.To figure out the answer to your question, was @willem judged because of the 'girls' or because of the 'selfies'? @willem How much were you judged for other selfie related works? Do you collect the comments people make? Surprisingly, these two 'naive' subjects – girls and selfies – can carry danger for an artist. Especially when combined together….
18:10 Daria Tuminas:
Very interesting case of a teenage girl in Fayetteville, North Carolina, who found herself both the 'perpetrator' and the 'victim' of the same crime, because she sent sexually explicit photos of herself to her boyfriend.
http://mic.com/articles/124846/sexting-almost-got-a-teenage-girl-chargedwith-two-felony-counts-against-herself
18:13 Daria Tuminas:
So, you can be judged in a proper court even if you made your own sexy selfie and happened to be underage. Nice.
16.10.2015
10:13 Suzan Geldhoff: @daria
Yeah, in some countries underage sexting means distribution of child pornography.
10:39 Daria Tuminas: @suzan
It seems like the themes of 'girls' and 'selfies' combined is a bomb for the 'white knights of the internet', as you called them. But also selfies of girls made by themselves are judged, and not only by the selfie-hunters anymore, but by means of the criminal code. I was surprised that a girl can be judged herself for her own selfie, becoming victim and criminal at the same time.
10:47 Willem Popelier:
First I want to comment on all the posts surrounding these rather pornographic 'selfies'. When I started researching and collecting selfies in 2008-2009, I was interested in the apparent fact that people (mostly teenagers) made these very exposed portraits. Not before long, I amassed a huge collection of images that were more and more pornographic. I questioned why people would post these images of themselves online. Of course many images are posted by others, which to me was a very important and interesting aspect too. The notion is that there's no control concerning these images.
10:53 Willem Popelier:
Back then most people online used the term 'selfshot'. The term has gotten 'pornofied' and when you search for it now, on Tumblr for instance, you'll find mostly pornographic material. It's also interesting to see that the term 'selfie' now is appropriated for images that are objectifying, or even pornographic, as with the images of fashion label American Apparel.
11:25 Willem Popelier:
When collecting and working on 'selfshot' images, I was wondering what the gender aspect was. The sexual poses that were made in front of mirrors, were quite typical. Were they typical female or male poses though? I came up with a sketch for a work that never saw the light of day, bearing the working title 'Mirrors'.

Willem Popelier, from the series Mirrors (working title), 2010.
18.10.2015
14:35 Karin Bareman: @daria @willem @suzan
What sprang to mind is an article I read long ago, called 'Pornography, Ethnography and the Discourses of Power'. The main point is that the ethnographic gaze of the anthropologist is similar to the pornographic gaze.
14:37 Suzan Geldhoff: @karinb
Still very relevant, unavoidably brings us to the white male gaze.
14:37 Karin Bareman:
The gaze of the white knights of the internet looking at selfies on the internet and fat-shaming them, the girls taking back agency, the schools and by extension the state interfering with consensual sexting and having a moral and legal opinion on the whole thing… I definitely think that power and purity and danger of girls is especially something at play, but I haven't yet figured out how exactly.
14:43 Karin Bareman: @all
I find the whole legal discourse interesting as well. The internet and social media present so many challenges, legally speaking, and developments are happening so quickly that the law struggles to keep up. Often there are no legal precedents for these instances. So it all comes down to a moral judgment, for example with the teenagers prosecuted as criminals as well as being the victims.
14:51 Karin Bareman: @willem
I presume you're familiar with the work of Evan Baden? He had models re-enact girls taking selfies. I don't find the work particularly interesting visually, but if my memory serves me right, it only contained girls. I know we figured out that the vast majority of selfies are taken by young white women, but still, where is the critical attention on the guys? I also really like that you question whether poses are male or female, the mirror project is really fascinating in that regard.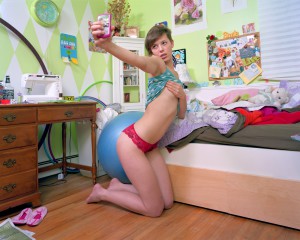 Evan Baden, from the series 'Technically Intimate', 2008-2010.
19.10.2015
13:45 Daria Tuminas: @karinb
Thank you for bringing up 'Pornography, Ethnography and the Discourses of Power!' It definitely needs and update to current realities – it was published in 1989 and it raises many important questions, but what I found applicable to the discussion about the sexy selfies in particular is this: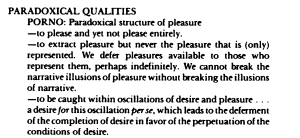 QUOTE from 'Paradoxical qualities of porno', in Christian Hansen, Catherine Needham, Bill Nichols, 'Skin Flicks: Pornography, Ethnography, and the Discourse of Power', Discourse, Vol. 11, No. 2, 1989, pp. 64-79, Wayne State University Press.
13:46 Daria Tuminas:
The idea of never being pleased entirely and the perpetuation of the conditions of desire.
14:04 Daria Tuminas:
In that article the men are the ones who look at and use a female body etc. All that gaze stuff. What I find interesting is that in porn there is indeed almost no male body, and definitely not the face. Only the Phallus (see aforementioned article). While selfies, the ones @willem published here, do show the body. In porn movies the director or producers are the ones who reproduce the same pattern over and over again. These naked male selfies contradict the porn tradition: hello, the male body can also be the object of a gaze (male, female or their own?).
@willem
About your story that some people think you're gay based on the project. If one makes selfies and shows the body, one is literally opening our eyes to the male body. We're used to the concept of the gaze that is only directed at the female body. And that's where the confusion maybe happens? And where do the similarities in poses come from? From the body language vocabulary we know is a body exposed to the gaze? And is it thus a female vocabulary? But of course it's much more complex.
18:07 Willem Popelier: @daria
My art students (mostly female) make lots of nudes, and often only of women. When I ask why they don't make nudes of men, they always say that the naked form of men is less beautiful. Then I always ask if they're straight or gay (most of them are straight), to question why they think the female body is more beautiful when practicing a profession (photography) and the male body is only beautiful in private time. (It sounds quite crude but I hope you understand my point.) I think this has to do with the 'training of the male gaze' via images in society, with everyone, including women. And, indeed, it's of course much more complex.
#selfieversusselfportrait
15.10.2015
16:11 Daria Tuminas
Could you compare a random selfie maker with artists who produce many self-portraits, but who also pay attention to other themes? Aren't selfies despotic in the sense that they prevent you from producing something else rather than a selfie? Does a selfie maker leave out other visual experiences or ways of image production or ways of looking at reality and at photography making? How often do selfie makers get attracted to the photographic process itself and become art or documentary photographers? Or do they perhaps get less interested in photography, and more in something else. In short: could Rembrandt have become a Kim Kardashian if he had had a smartphone – just because the selfie blocks one from seeing differently than seeing through the 'selfie-glass'?
18.10.2015
12:48 Karin Bareman @daria:
Do you really think there is such a distinction between artists making self-portraits and selfie makers? Simply because they engage with other genres? I'm sure that even the most respected and established photographers we know of make selfies too. Partially because it's a little addictive, partially because you want to share experiences with others, and partially – in the case of the artists – because most of us want to know who is the person behind the art. In that sense it can almost be used as a marketing tool. I think it's more about which channels you use. Selfies are made mostly to be uploaded to social media, but other genres less so. Then, again, I can imagine Richard Prince coming up with a selfie exhibition where he sells his selfies for ridiculous sums. He's already got an Instagram account and the project…
@daria:
And by making that distinction don't we elevate the artist a little too much to the tortured hero status? Just thinking out loud…
18:37 Daria Tuminas @karinbareman:
Selfie versus self-portrait. I neither said these are different nor that they're the same )) But maybe now is a good time to talk about this issue. Is a selfie the same as a self-portrait? This question reminds me of another one: Is digital photography also photography?
The discussion started immediately after the public release of digital photography. In 'The Reconfigured Eye' (1992), theorist William J. Mitchell talks about the post-photographic era. And Jacques Clyssen, in 'Digital (R)evolution" (1995), proposes new terms, such as damp pictures (silver-based photography) and dry pictures (referring to the magnetic base of electronic or computerised photos). The story continues with para-, trans-, and extra-photographies. The point is to figure out how digital photography differs from analogue. Different theories discussed the technical differences, ways of distribution, how manipulation got easier, the shorter production time, among other things. The boom of book studies bearing titles like 'After Photography' or 'Is Photography Over?', conferences and exhibitions show that for some reason people want to 'invent' a new paradigm. It's important to note that no new term arrived from the users' side. Nobody talks about 'dry pictures', even experts don't. Yet, it's all photography still.
What about selfies?
On the one hand, we may claim: Yes, it's a good old self-portrait. Democratised. And just as with the digital versus analogue debate, we could discuss how the genre got changed by technical aspects. How did the possibilities for distribution change? What's the difference between an artist working on a series of self-portraits, an artist doing selfies, and a vernacular selfie-maker? (Without making a hero figure of the artist, we can admit that there are artistic and vernacular practices and they're not the same.)
On the other hand, what distinguishes a selfie story from the story of digital photography is that the phenomenon has a name. Selfie is a separate term. And it came from users, not from theorists. The new term announces and confirms the arrival of a new phenomenon. We're totally free to say: it's a different thing than a self-portrait. No wonder the word itself has been celebrated in different countries. That doesn't happen every day. On a side note: there are no 'landscapies' or 'still-lifies'.
Selfies are rooted in vernacular photography. In that sense a selfie maybe doesn't inherit from the tradition of the self-portrait, which is completely artistic. Maybe it's us who want to place selfies in an art-historical context, because the word reminds us of the term 'self-portrait' and because the subject is "oneself in an image". The roots of selfies may come from a completely different place than the artistic genre.
Thinkers tried to say: digital photography is not photography. Now we try to say: a selfie is a self-portrait. Why don't we accept it being a different thing? This time it actually can be true, without speculative headings like 'self-portraits are dead'. I wonder if it's perhaps our mistrust of the selfie? Maybe its 'non-seriousness' makes us want to connect it to something 'serious' – like the respectable tradition of the self-portrait.
19:09 Suzan Geldhoff @daria:
I like the observation of selfies coming from vernacular photography and artist's self-portraits from art photography. I do think that they're wildly different (historically), yet of course there's also a grey area of artistic selfies where these two intentions overlap.
19:15 Daria Tuminas:
Here's a strong point, from the essay 'What's the Difference between a Selfie and a Self-Portrait?' by Alli Burness, founder of the Museum Selfies tumblr: "Art historian James Hall notes the term 'self-portrait' only came into common practice during the early twentieth century, with "the traditional 'Portrait of the Artist' and 'Portrait by/of Himself'" being preferred terms until that time. Which leads one to wonder whether it is anachronistic to refer to Rembrandt's self-representational images as 'self-portraits'?"
http://museuminabottle.com/2015/01/22/whats-the-difference-between-a-selfie-and-a-self-portrait/
19:17 Suzan Geldhoff @daria:
Interesting info on the self-portrait term! I had not realised before that this too is a relatively young term!
19:27 Daria Tuminas @suzan:
In discussing selfie versus self-portrait it's important to keep in mind that these are just terms that have their own history. In a way it's funny that it took self-portraiture so long to being shaped into it's own genre. In Hall's book we also read: "[…] It is in the Christian Middle Ages […] that we see the start of a coherent tradition of self-portraiture". While for selfies it took about what? A few years? And again: definition by experts versus definition by users.
21.10.2015
18:00 Willem Popelier @daria
One can indeed wonder whether it's anachronistic to refer to Rembrandt's self-representational images as 'self-portraits'. It's even more anachronistic (and in my view stupid) to have an exhibition called "Dutch Self-Portraits – Selfies from the Golden Age" (Mauritshuis, The Hague, 8 October 2015 – 3 January 2016).
23:20 Karin Bareman @daria
You raise an interesting point with regards to the dry and damp pictures and their analogy with digital and analogue photography. But there is actually one distinction that did enter the discourse: the wet darkroom and the digital darkroom… and didn't Stephen Mayes write an article recently in which he states that digital photography is a different art form? But I guess that ties in with your point that it's also a way to attract attention.
23:22 @daria
But wouldn't you say that vernacular photography feeds into art photography and vice versa? Think of Lee Friedlander for example.
23:23 @daria
And, in the same vein, doesn't the tradition of the self-portrait feed into the selfie on a subconscious level? And the other way around?
22.10.2015
21:43 Suzan Geldhoff
Here's an example where the lines between selfie and self-portrait are very blurry. It's a work by Zeynep Beler from 2014: http://jahjoma.tumblr.com/post/126500458883/jahjoma-selfie-portrait-oil-on-canvas
I think it's pretty interesting since it combines mirror selfie, selfie in general and self-portrait. And all without revealing her (facial) identity. And the juxtaposition of a more classic medium with such a hyper-contemporary subject, that we're not used to seeing in this medium, makes it really vibrant I think.
23.10.2015
15:33 Daria Tuminas @karinbareman:
You suggest that vernacular photography feeds into art photography and vice versa and that the tradition of the self-portrait potentially feeds into the selfie on a subconscious level. My question would be: Is there empirical evidence? We can easily trace how the vernacular is being appropriated and reflected on by art: artists talk about it outspokenly and then there are the works themselves. But how can we traces the influences from art and self-portrait to the vernacular and the selfie? Selfie-makers and mass audiences aren't as outspoken. Besides, many people simply never go to museums and aren't interested in art history. And if you do go to a museum or look at art online, you have to be very focussed on finding self-portraits so to become influenced by them. The history of self-portraiture isn't the hottest subject in the media. It's symptomatic that the book 'The Self-Portrait: A Cultural History' by James Hall, published by Thames & Hudson, a publishing house aimed at a wide audience, appeared only in 2014, quite late for selfie-makers to be influenced by it. Well, maybe there are some influences now, but again – how can we trace it? So, I don't see how self-portraiture feeds into selfies. Besides: what is a self-portrait? Rembrandt or Jeff Koons? Gilbert & George? Tracey Emin? What constitutes the tradition of self-portraiture you're talking about?
15:38 @willem:
"Selfies from the Golden Age" – that sounds hilarious! Funnily, there are two questions now, leading us into a conundrum: whether a selfie could be a self-portrait and whether a self-portrait could be a selfie.
I also wonder, what is the difference between these two questions? We perceive the title of the show at the Mauritshuis as ridiculous because perhaps we feel it's about two very different concepts?
17:41 Karin Bareman @daria:
I can't provide empirical evidence for how art feeds into vernacular photography in general and selfies in particular. Frankly speaking, I'm not sure how to collect that kind of evidence. You're correct in saying that a large part of the population does not go to art museums or expresses interest in art history. However, I still believe it to be true. Art and art history inform other media such as TV, film, graphic design, fashion, advertising, and so on. We're surrounded by images all the time, and somehow subconsciously we try and make sense of it, and probably use visual conventions whilst making photographs in general and selfies in particular. Kim Kardashian is a case in point, the selfie where she photographed herself full body in the mirror in a white swimsuit whilst looking over her shoulder. The way she positions her face is identical Vermeer's famous painting 'Girl with a Pearl Earring'. I'm sure she had this painting not consciously in mind, but does that make the influence any less valid? I don't think so…
#selfieasperformance
07.10.2015
12:04 Karin Bareman
I'd like to raise a point in relation to Daria's #trueselfie subject and the astronaut's selfie in outer space where you don't see his face or body at all.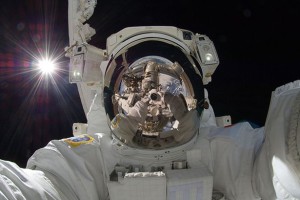 The point is: if, for the sake of argument, good portrait photography allows the viewer to glimpse the true persona of the subject portrayed, where do selfies fit in? I already thought about this for an article I wrote, for Emaho Magazine, about furries, people wearing fur suits, for fun, in their spare time. It also brings to mind an anthropological theory, by Edmund Leach, regarding communication involving masks, the stage, performance etc.1 Is the selfie a form of performance? And how does this tie into the marketing/branding aspect of the selfie? It also follows and twists something Susan Sontag had written about photographs, that they serve as proof that the programme has been carried out and that fun was had.
21:09 Daria Tuminas:
Talking about the selfie as performance, we have to distinguish the public and group selfie from the private selfie. Are both performances? And then regarding public & group selfies (for example the case discussed in the #showingandblaming thread, about a group of Arizona State University students who attended an Arizona Diamondbacks game where they took many selfies): The taking of selfies is documented, filmed or photographed by the media or others. This way it's almost like a documented performance. Something that exists as documentation, and we may not even know what the actual performance was like, or which selfies were taken.
21:10 Daria Tuminas:
Selfie-taking as performance is highly repetitive. The same thing happens over and over again.
21:17 Daria Tuminas:
Selfie-taking as a type of performance can also be compared with flash mobs – people have an agreement to do something in public space simultaneously. That's why the video showing the girls from Arizona State University went viral – they were ALL doing something AT THE SAME TIME. Does maybe any action performed by people at the same time & in the same space look weird and almost theatrical?
08.10.2015
19:43 Karin Bareman:
While thinking about performance, I also had to think about performance pieces and performance artists. The actual art work is the performance, but most people only get to see it as documentation, in the form of film or photography. So, is performance being democratised just like portrait photography was once democratised? Moving portraiture away from the elite to the masses?
09.10.2015
09:01 Daria Tuminas:
Democratisation of a performance? An interesting idea. So, that's a form of public behaviour in groups, very present and noticeable to others, which distracts and makes you want to see it. At the same time, the participants probably don't notice they're participating in some group action or group performance. They are locked into a phone, and from inside the group it's not recognised as spectacle.
09:04 Daria Tuminas:
Even if a number of people don't know each other (let's say they are random travellers on a train), but if they're all doing selfies, we'll recognise it as performance, something theatrical, as a spectacle.
09:11 Daria Tuminas:
How much deliberate creativity is there in group selfies? I've tried googling some artistic group selfies and failed. So, we should also be aware that the recognition of it as performance is just in the eye of the beholder, while selfie takers' behaviour may not be intended as such.
[12.10.2015] 14:13 Karin Bareman:
How much deliberate creativity is there in group selfies? I've tried googling some artistic group selfies and failed. So, we should also be aware that the recognition of it as performance is just in the eye of the beholder, while selfie takers' behaviour may not be intended as such.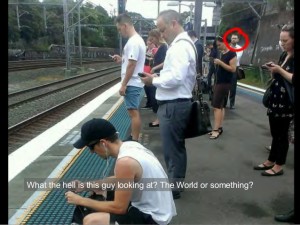 [12.10.2015] 14:17 Karin Bareman:
Performance may be in the eye of the beholder and may not be deliberate, but does that make it less of a performance? It almost makes me think of the synchronised movements done by fish or herds of cattle. But I am not a biologist :-)
10:09 Daria Tuminas:
What might be democratised is not a performance but an expectation of what could be a performance. The perception of it.
13.10.2015
11:59 Raymond Frenken @everone:
Yesterday, I read this brilliant New York Times interview with Rihanna by Miranda July.
"Suddenly Rihanna threw her hand into the air, making a peace sign. I whipped my head around and saw an older white man trying to sneak a photo of her by taking a selfie — a selfie that was in fact an 'otherie'. She was smiling but I felt annoyed on her behalf and held up my middle finger. That'll show 'em. ''I'm so sorry,'' the man said. His whole table of people eating shrimp cocktail looked mortified. ''I've never done anything like that.'' ''It's O.K.,'' she reassured him. ''You're lucky I wasn't eating, 'cause that would have been an ugly picture.''
Read more: http://t.co/w3mtpEdiJO
The selfie-taking dude is pop music reporter Joe Coscarelli, https://twitter.com/joecoscarelli
His selfie with Miranda July & Rihanna: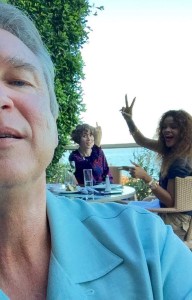 13:15 Suzan Geldhoff
I like it that the act of the selfie as performance really shines through here in Rihanna's reply. (Miranda July's reaction, I think, is more emotionally driven and not so much choreographed.)
18:21 Daria Tuminas
Miranda's reaction is not pure emotion. I'd suggest it being a meta-performance, an action that reflects on the situation. Rihanna perhaps plays a role, while Miranda is able to see the picture from the side, imagining how the peace gesture and the middle finger compose a controversial image if seen together. She may have been annoyed as she was writing, but there was a clear intention – to get into the image with a particular message, considering every condition and every 'player'.
15.10.2015
15:18 Daria Tuminas
When talking about performance, we should not forget about this story: http://time.com/3982506/immigrant-instagram-migrant-journey-abdou-diouf/ :
"An Instagram account that purported to show the tribulations of a Senegalese migrant embarking on an illegal journey to Spain turned out to be a campaign set-up to promote a photography festival. Launched a week ago, the account claimed to show how "Abdou Diouf" left his native Dakar in Senegal to find a better life in Europe. The pictures – all self-portraits – showed Diouf at various stages of his "trip"… The account went viral this weekend after the Huffington Post wrote about Diouf's journey. However, as international attention turned to Diouf's mysterious postings and his use of popular, yet unrelated hashtags, the account was revealed as fake."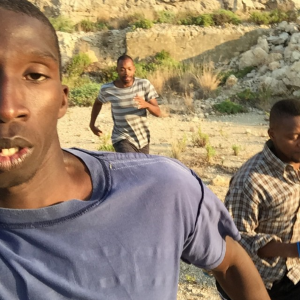 15:23 Daria Tuminas
It's proper acting + constructing a story of a 'migrant' + playing with the viewer's expectation that a selfie is inherently 'truthful', shot at the spot. Manipulation with filters may be part of the game, the manipulation of the story is not. It reminds me of the discussion about photography and it's 'truthfulness' in the early stage of theoretical reflection about the medium.
15:36 Daria Tuminas
Louis Jacques Mandé Daguerre (1787-1851) – 'Daguerreotype': "The Daguerreotype is not merely an instrument which serves to draw Nature; on the contrary it is a chemical and physical process which gives her [Nature] the power to reproduce herself".
William Henry Fox Talbot (1800-1877) – 'The Pencil of Nature': "The plates of the present work are impressed by the agency of Light alone, without any aid whatever from the artist's pencil. They are the sun-pictures themselves, and not, as some persons have imagined, engravings in imitation".
The fact that photography allowed for the mechanical reproduction of reality (as opposed to manual) completely blew the minds of all thinkers who up to the early 1990s connected the nature of photography to its 'innate honesty'. It's a myth, of course, but carefully created, cherished, and supported throughout the history of critical thinking about photography. Thanks to the brilliant metaphors crafted by the pioneers of photography, the medium was perceived as Nature reproducing herself, as 'sun-pictures'. There was an immense trust in the medium. And now something similar seems to happen with the selfie – it's so vernacular and democratic that we tend to forget it can be used for different purposes. We've already learned how to distrust advertisement photography, art and, finally, documentary. But do we still unconsciously put belief in the selfie? The 'Migrant Journey' is build upon this trust.
16.10.2015
12:30 Karin Bareman @raymondfrenken
I really liked the fact that Rihanna totally photo bombed this man's selfie. Is it a selfie? Is it a portrait of Rihanna? Can we speak of a hyper-awareness of Rihanna regarding her own portrayal? Is it like a meta-performance? Can we see photo bombing as a form of performance? Almost like a phenomenon of #antiselfie?
12:42 Karin Bareman @daria
Regarding the fake Instagram account of the migrant which was presented as real by the Huffington Post: there are so many issues at play, that we can almost have a field day. Remember that I recommended looking at Nick Davies' book 'Flat Earth News'?
@all
This is a book by a journalist who did journalistic research into journalism itself. In a beautiful way he describes how journalism is deteriorating, because there are no more local reporters on the beat covering newsworthy events. So, there's no more fact checking, no news is found anymore from the bottom up. All you get is churnalism and clickbait. This particular story is a perfect example. It looks good and interesting, the Huffington Post falls for it and forgets about fact checking. Other news outlets follow suit, until someone finally does the digging that should have been done by these media in the first place. But there's also the aspect of photographs being conveyors of truth. We were also saying about selfies that they get mostly taken to show that the programme was executed and fun was had (Sontag), but here it's flipped around. By showing himself as part of the journey, "Abdou Diouf" proves he was there and lived through it. Even when fake. The use of 'selfies' makes it seem more authentic than, for example, your average photo-documentary about migration (excuse us Ad van Denderen). People can identify with selfies on a personal level. And I'm probably still missing out on a million other levels carried by this story.
17:29 Daria Tuminas
This case is about a person who documented a performance while he also became part of it. We know about many selfies just because somebody was there documenting the process of the selfie-making, while we don't get to see the selfies themselves.
17:38 Daria Tuminas
The continuation of our discussion about performance must be a deliberate action. Perhaps not, but I tried to point out what it is that we expect from a performance in the public domain. We are trained by numerous happenings, flash mobs, pranks etc. So, regardless of intention, one could regard them as a group of performers.